BIOMEDICAL ENGINEERING AND ELECTRONICS
Title:
BIOMEDICAL ENGINEERING AND ELECTRONICS
Diffusion:
Found in
0 Citation databases.

c0
1 Multidisciplinary databases.
DOAJ
m1
0 Specialized databases.

e0
2 Evaluation resources.
Directory of Open Access Journals, ERIHPlus
x2
Diffusion
c0+m1+e0+x2
From 2022 onwards MIAR will not show the ICDS calculation. Instead we will only show the profile of the journals' presence in the sources analysed by MIAR: under the label 'Diffusion' the number of presences will be indicated according to the four categories of sources used. With this change, we want to focus on our core objective: to gather useful information for those who have to evaluate journals, but without being a source for ranking journals according to a single metric. ICDS values from previous years will be available in the archived versions of MIAR.
Editor's coments:
Modern development of medicine and medical equipment put the development of theoretical and technical working-out in the field of biomedical engineering and electronics in the forefront. Founders of the journal set the goal to cover scientific researches in this field and to implement scientific achievement and problem solving in the field of highly skilled specialists training.
Electronic journal Biomedical Engineering and Electronics is an open free international electronic edition in the field of medical, biological, technical and chemical sciences.
All articles published by E-journal "Biomedical engineering and electronics" are made freely and permanently accessible online immediately upon publication, without subscription charges or registration barriers.
The journal publishes articles and scientific surveys in the field of biomaterial science, biomedical technologies, interaction between physical fields and emissions and biological objects, working-out of the new radioelectronic devices for biology, biomedical technologies and medicine under the following sections:
- Medicine and medical equipment
- Bioengineering
- Mechanisms of electromagnetic fields biological effects
- Experiment
- Equipment
- New biomedical technologies
- Electromagnetic fields and human's health
- Theory and practice of medical measurements
- Issues of metrology and measuring system standardization
The objective of the academic periodical is publication of modern scientific researches and working-outs.
Scientific information is available in open access for the discussion of the results and involvement of young talented scientists. (All articles are in full-text open access. There is no need to login.)
MIAR recolecta datos para la identificación y análisis de revistas científicas. Si se introduce en la casilla de búsqueda cualquier ISSN el sistema localizará en qué
bases de datos
de las contempladas en la matriz está indizada la revista, esté recogida o no en MIAR.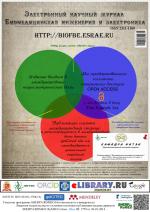 Articles by year
total: 0 (
lens
)
Sources: